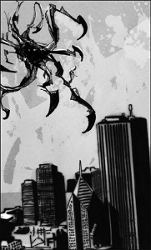 The News 88 Heliteam is a crack team of journalists, seasoned in the field. They've seen it all. Until now.
It's July of 2012, and the News Team is finishing a report on a police chase winding its way through Chicago when they see something horrific happen at several hundred feet in the air.
The upper reaches of Chicago hold a terrifying entity, and it won't take an ace reporter to figure out it can get very lonely up in the sky.
PLAYERS
Matt: David West, a Chicago native and the team's lead journalist.
Josh: Lionel Burdett, an enormous man who is the team's primary cameraman.
Travis: William Borders, a retired Marine pilot and the team's helicopter pilot.  
Podcast: Play in new window | Download
Subscribe: RSS