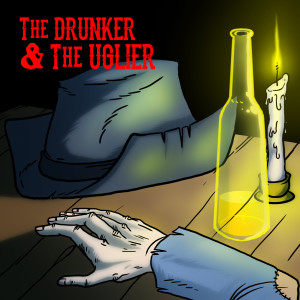 Hello internet! If you keep up with the podcast, then odds are you will run out of episodes sooner or later. Every month we will add 4 episodes from our "Drunker and Uglier" Archive, which will never be posted on the main site. These episodes are available as downloads from this page to help fill the gap between other APs on the site. Do you want to get these a year ahead of time and get access to the entire archive? Support our Patreon!
October 2015: Games from Gen Con 2014 – Games we ran at Gen Con 2014. Two instances of Night of the Gaming Does and two instances of our Frieda's one-off Ghosts of the Tectron Underground.
November 2015: Rayas Bishara Military Academy Sessions 1 – 4 – Here are the first 4 sessions of an unfinished Sordid Dystopia Campaign The Rayas Bishara Military Academy. The games take place in the country of New Xexoria, a fairly small but advanced nation which is guarded by a similarly small but elite military force. The Rayas Bishara Academy is a school for reservists and serves dual function as a military training center and an educational institution.
December 2015: Crystal Rock Junior High and Rayas Bishara Sessions 5 – 7 – This month's entry includes a playtest of Crystal Rock Junior High School, a game created by Nate during the Drunk and Ugly 1-Hour Challenge, as well as 3 more games in the Rayas Bishara Military Academy campaign.
January 2016: Mecha ORE Playtest and Better Angels Sessions 1 – 3 – This month's entry includes a playtest of an ORE Mecha system and the first 3 sessions of Matt's first effort at running Better Angels.
February 2016: 7th Sea Playtest and Jericho Sessions 1 – 3 – This includes our first attempt at playing 7th Sea as well as a playtest of Jericho, a campaign setting that was like Willy Wonka meets Bioshock.
March 2016: Better Angels 4 and 5 and Doom House – The end of Matt's Better Angels experiment and 2 Sessions of a Project PIXIE scenario that lost some bits of recording. Definitely didn't mix this one up with the February upload.
April 2016: Jericho Sessions 4-6 and Man of 1000 Faces – We continue the Jericho campaign, getting into some deeper intrigue in the subterranean city. The one-shot included this month is a playtest of a CoC scenario from The Unspeakable Oath.
May 2016: Jericho Sessions 5-8 and Fallout: Crystal Valley.