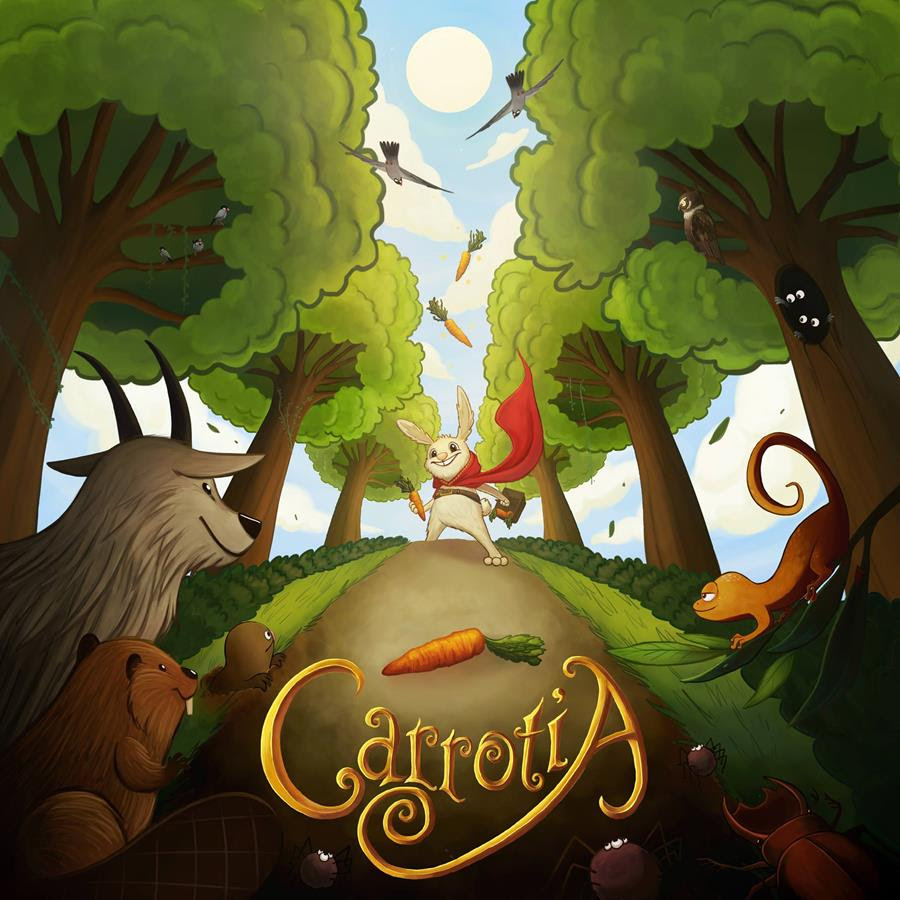 You can watch a video of our live play at Gen Con 2017 here!
At the end of Gen Con 2016, we were contacted by Mage Company Games asking if we would review one of their games.  We said yes and took them up on their offer to receive a free copy of Carrotia in exchange for doing a review.  In June of 2017 we finally received the game, and during Gen Con 2017 Matt, James, Travis, Kevin, and friend of the show Clayton played it during off-time at the convention.  You can listen to our first impressions and our actual live attempts to understand the rules and finally play the game.
Our collective takes in summary:
We found the game incredibly chaotic and incredibly complicated for what it's trying to achieve.

The need for multiple timers as well as limited turns and access to pieces in order to build the requisite mazes was hectic and unintuitive.
The deterministic nature of moving through the pathways towards the exit once the maze was constucted was fairly dull.
The random birds placed on the board and their effects led to some level of strategizing, but ultimately the birds didn't pose much threat as they continually just ran into walls.
The rabbit abilities are wildly varied and unbalanced.
Neither the main rules nor the errata rules we were sent had any hard or firm victory condition.

We were impressed by the level of production value that went into the game and the amount of custom pieces that came with it.

We love the art style the game goes for.  We may have picked this game more or less because of the box art.
The tiles and player cards are sturdy and well-constructed.
Every bird has a custom die that makes it easy to see which one is moving where.
3 hourglasses of differing lengths was intriguing even if ultimately it was pointless.
Despite the high production values and lovely art, we would not recommend this game.  It's rated for ages 8 and up and we as a group of twentysomething adults were confused and frustrated by its rules, and ultimately we didn't feel like we had any control over what happened.
Podcast: Play in new window | Download
Subscribe: RSS